New and Improved
The new and improved 2021 Hyundai Elantra promises to make a splash this year with a newly redesigned look both inside and out. Built with a lower and wider profile, this year's Elantra gives new meaning to the term "Sport Sedan". Inside, you'll find leading-edge technology and safety features letting you feel connected and protected, no matter where the road takes you.
Striking Newly Designed Exterior
The designers at Hyundai have come up with a bold new styling for the 2021 Elantra and they've coined it "Parametric Dynamics". What does that mean?
A stunning grill than integrates perfectly with the architecture of the headlights and converging lines along the side of the vehicle. This creates a unique, three-dimensional look that differentiates the new Elantra from previous models. This coupled with all new 17-inch alloy rims, LED headlights, taillights, and side mirror turn signal repeaters all lend themselves to an Elantra that is stylistically leaps and bounds ahead of the leading entry level family sedan. Lastly, the new sleek edged trunk lid rounds out the 3D design of the 2021 Elantra, integrating the construction of the rear taillight seamlessly into the body and ultimately delivering an impression that is just as stunning from the back as it is the front.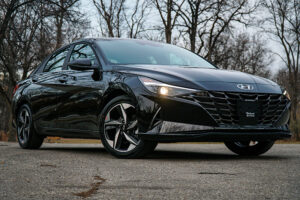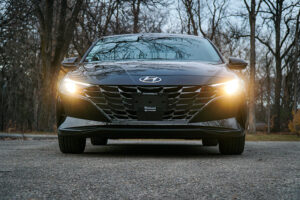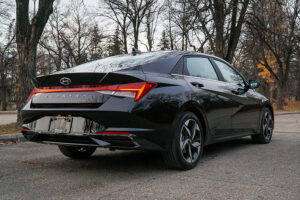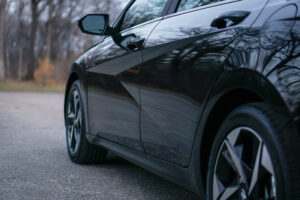 Comfort That's Hard to Get Out Of
Inside you'll find a newly re-designed cockpit with a wrap-around style that elevates your driving experience to another level. You'll also find a sleek 10.25 inch touch display, heated front and rear seats with increased leg room in the back, making it the largest rear cabin out of almost any entry level sedan. But the heat doesn't stop there, you'll also find an optional heated steering wheel and dual zone automatic climate controls that combined with an all-new digital display system, 8-way power adjusting seats with 2-way lumbar support means a comfortable driving experience with better sight-lines and control of the vehicle. There is even a fully powered sunroof for when the time comes to cool off from all that extra heat.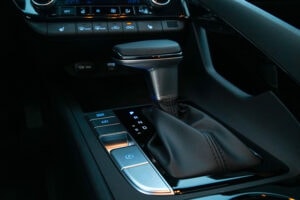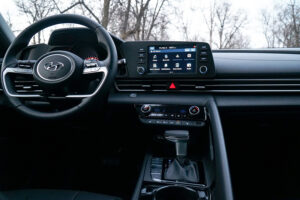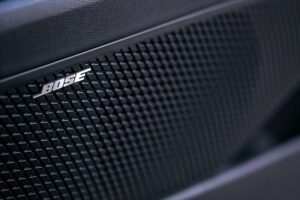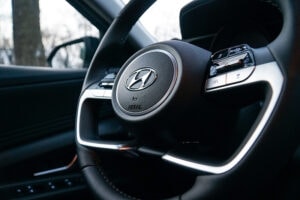 Industry Leading Safety Features
The new 2021 Elantra comes loaded with safety features encompassing the entire 360-degree structure of the vehicle. To start, available High Beam Assist which uses a front-mounted camera and light detection technology to automatically switch between high and low beams when traffic is detected ahead. Next, it features Parking Collision-Avoidance Assist when moving in reverse, and Forward Collision-Avoidance Assist when moving forward. These features provide audible and visual warnings if the vehicle gets too close to an object. If no action is taken the car can apply emergency automatic breaking to avoid a collision. Combine this with:
Available Pedestrian Detection and Cyclist/Junction-Turning Detection
Cross-Traffic Collision-Avoidance Assist
Additionally, there are a number of safety features specifically designed for highway driving:
Available Adaptive Cruise Control (ACC) system brings a whole new level of convenience to cruise control. Set a pre-determined speed and distance from the vehicle ahead and ACC will automatically adjust your speed and breaking to maintain that distance
Highway Driving Assist and Highway Auto Curve Slowdown
Bind-Spot Collision-Avoidance-Assist which uses radar to detect vehicles hidden in the drivers bind spot and gently applying breaks to the opposite tire when needed to avoid collisions or unsafe lane changes
Lane Departure Warning which uses the front mounted camera to detect the paint on the road and keep you in your lane
Driver Attention Warning designed to detect fatigue in the driver
Rear Occupant Alert
The safety doesn't stop when the car is parked. All of these features are wrapped in the SUPERSTRUCTURE (TM), a state-of-the-art platform built with Hyundai's own Advanced High-Strength Steel to deliver exceptional stiffness and strength which helps protect occupants of the vehicle by absorbing the impact and redirecting the energy away from the passengers.
Seamless Device Connectivity
Stay connected with standard Apple Car Play and Android Auto which allow seamless access to your favorite apps and contacts. Additionally, a Bluelink® connected vehicle system allows you to control certain aspects of the vehicle via a smart phone app. Combine this with a full Bose® Soundsystem and interior ambient lighting for an in-car entertainment experience that will be hard to get out of. Lastly, a wireless charging pad can be found in the centre console so you can set your phone down and pick it up with a freshly charged battery, cable free.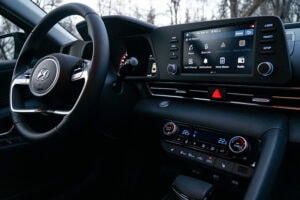 Efficient Performance
The all new Elantra is powered by a Smartstream 2.0L engine which delivers 147 horsepower through a standard 6-speed manual transmission or available Smartstream Intelligent Variable Transmission.
For a deeper look at the 2021 Hyundai Elantra, visit Hyundai Canada:
https://www.hyundaicanada.com/en
2021 Hyundai Elantra named North American Car of the Year
They 2021 Hyundai Elantra has been named the 2021 North American Car of the Year by the North American Car, Utility and Truck of the Year (NACTOY) automotive media jury.  This is now the second time that the at one time modest, entry level sedan has taken the prize (2012).
https://www.automotiveworld.com/news-releases/hyundai-elantra-wins-prestigious-2021-north-american-car-of-the-year/
The vehicle has come a long way from its humble beginnings and now boasts some of the latest technology, safety, and engine efficiency advancements in the industry. After going through a complete overhaul this year which delivered a lower, wider, and sportier stance with distinguishable body lines, it also received an interior overhaul which could be mistaken for that of a luxury vehicle. The vehicle rightfully earned its position as the number one pick at a virtual event held in early January.
For pictures, information, press releases check out:
https://www.hyundainews.com/en-us/models/hyundai-elantra-2021-elantra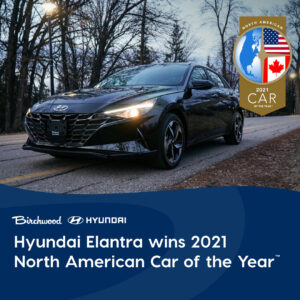 The Elantra won against a panel of 40 other competitor vehicles. Established in 1994, NACTOY is uses a diverse selection of automotive journalists from both Canada and The United States of America. Jurors evaluate contestants based on segment leadership, innovation, design, safety, handling, driver satisfaction and value for the dollar.
The NACTOY awards are the longest running new vehicle awards not associated with a single publication, website, radio, or television station. The independence of the jurors makes it one of the most respected vehicle awards in the industry.