The 2024 Volkswagen Atlas seamlessly blends elegant design with advanced technology, creating a vehicle that stands out in the competitive SUV landscape. Tailored for any lifestyle, the Atlas is equipped with ample cargo space, customizable lighting, adaptive driving modes, and a powerful engine for a unique driving experience.
Exterior: Redefined Elegance
The 2024 Volkswagen Atlas catches attention with its striking exterior design. From the new adaptive LED headlights and end-to-end light bar, illuminated VW logo, and sleek design, the Atlas blends elegance with a touch of rugged charm. To add enjoyment and convenience to your ride, the 2024 Atlas also comes with a panoramic sunroof and easy-open lift gate. Available in an array of popular colors, this SUV makes a lasting impression on the road.
Interior: Luxurious Comfort
Stepping inside the Atlas, you're greeted by a spacious and luxurious interior. This includes a floating centre console, metallic gloss details, premium materials, and customizable interior lighting with 30 colour options that create a unique and inviting atmosphere. The interior design ensures plenty of legroom for all passengers, 2,735L of cargo space, and an easy-access third row to fit your whole family.
Technology: Cutting-Edge Connectivity
The 2024 Volkswagen Atlas innovates with a suite of cutting-edge technology. It has a new 12-inch infotainment system to display everything from navigation to music, maps and more, with wireless connectivity to Apple CarPlay and Android Auto.
Another impressive feature is wireless charging for your smart phone, and the Car-Net app to be connected to your Atlas at from anywhere. We can't forget about the premium sound system and unique head-up display that shows speed and navigation warnings directly on your windshield to create the best driving experience possible.
Safety is top of mind in the 2024 Volkswagen Atlas. The SUV comes equipped with a comprehensive set of safety features to ensure you're protected on every adventure. These include:
Front Assist with automatic emergency braking
Lane change and side assist with blind-spot monitoring
Rear traffic alert
Exit warning system
Park Distance Control with front and rear sensors
Performance: Efficient Power
Beneath the hood, the Atlas has a redesigned turbocharged 4-cylinder engine that delivers 269 horsepower, 273 lb-ft of torque, and greater fuel-efficiency and acceleration compared to older models. The 2024 Atlas also comes equipped with 4Motion all-wheel drive, making it perfect to combat any weather condition from rain to snow. A bonus is the 5000-pound towing capacity and customizable driving modes that make the Atlas a jack of all trades.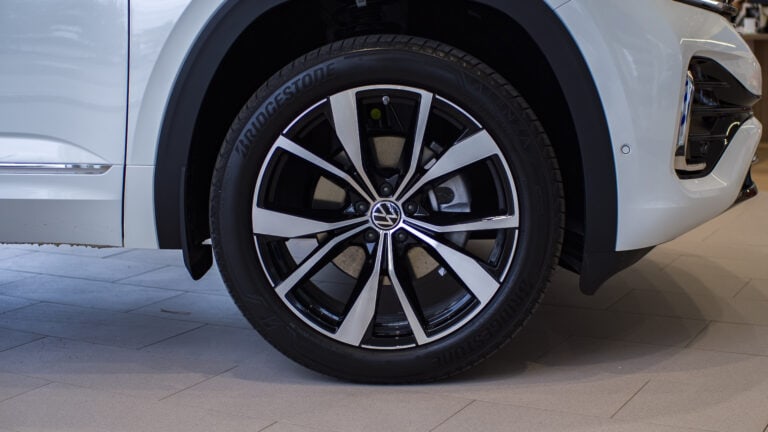 The Volkswagen Atlas isn't just an SUV, it's a statement of style, safety, and performance. You can learn more by visiting Volkswagen Canada!