Welcome to an all-new breed of Mustang. Welcome to the all-new, 2021 Mustang Mach E. A vehicle that was built with the same passion as its iconic heritage. The Mach E is the new shape of freedom that was built for the future. Get ready for a 0-100 km thrill ride with expansive range, zero emissions and everything you would expect from the 2021 North American Utility Vehicle of the Year ™.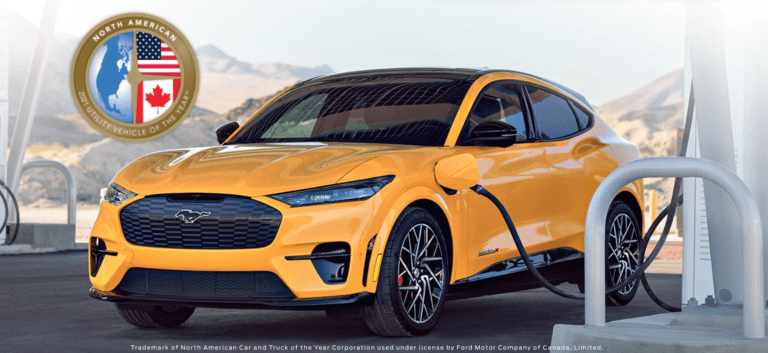 The exterior of the Mustang Mach E is futuristic, but reminiscent of the past with beautiful curves over the front fenders that blend seamlessly into an aerodynamic body. You'll find no traditional door handles. Instead the Ford Mustang Mach E has been designed with a simplistic button feature for both the front and back doors.
The Mach E comes in four separate trim levels allowing you to pick the style and performance level that suits your needs.
Mach E Select
Mach E Premium
Mach E California Route 1
Mach E GT Performance Edition
The Mustang Mach E offers 1690L of cargo space behind the first front row seats. That leaves plenty of room for you and all of your adventures. There is also quick access storage under the front hood. No more fighting to find space on your next big trip.
Each trim level comes with an impressive array of material and design options allowing you to customize the Mach E to your liking. Step inside a futuristic cabin with a 15.5" touch screen, available panoramic glass sun roof and a design that is the perfect blend of luxury and sport.
Get Ahead of the Herd with Leading Edge Technology
The Mach E comes loaded with leading edge technology and is designed for fast and easy charging while you're on the road. Through DC fast chargers and easy access to the available FordPass™ Charging Network, which is the largest charging network in North America offered by an automotive manufacturer, you'll never find yourself running out of power.
Don't forget about available Ford Co-Pilot360™ which will help you stay confident and in command. There is also available BlueCruise highway technology that allows you to operate the Mach E hands-free.
In 2021, Ford also introduced SYNC®4A. A unique, human centred design controlled through a 15.5" centre touch screen. It combines cloud based technology, voice recognition and so much more, bringing you a seamless driving experience that is completely customizable. Other available features include:
Remote vehicle set up through the available FordPass™ mobile app.
Customizable drive experiences with adjustable interior sound, lighting and responsiveness.
Wireless software updates
Ford + Alexa
A New Breed that's 100% Electric and 100% SUV
Between the four separate trim levels available on the new Mustang Mach E, there is a variety of power and range options. Go from 266 HP with an expected range of 370 km in the Mach E Standard model, all the way up to a hair raising 480 HP and 630 lb/ft. of torque in the unleashed GT Performance Edition.  
There is also available Electric All-Wheel Drive that delivers exceptional performance and handling. Front and rear motors deliver power independently to each axle which allows you to take on every bump in the road.
The Mustang Mach E delivers unbridled performance with an uncompromising look and feel that is designed for the future. Visit the link below to visit Ford Canada's website and take a deeper look at the Mach E.
Click the button below to view our inventory and book a test drive!