The 2023 Nissan Rogue has a perfect blend of style, technology, and performance. With its affordable price, top fuel efficiency, and functional design, this compact SUV is a great choice for every lifestyle.
Exterior: Sleek and Timeless
The Rogue is ready for adventure with its modern and streamlined exterior. The 2023 model has kept a similar look to previous ones, staying familiar and recognizable on the road. New this year is the Nissan Rogue Midnight Edition, which has a classy all-black exterior, grille, rims, and emblem.
Interior: Room for the Whole Family
Stepping into the interior, you'll see Nappa leather seats, a panoramic moonroof, and impressive cargo space. The Rogue is designed for convenience and has functional features such as 4-door keyless entry, rear door alert, rear sunshades, and a Bose® Premium Audio System. With room for 5, there's plenty of space to seat the whole family and stay comfortable on long road trips.
Technology: Synched with Your Life
The 2023 Nissan Rogue has the newest technology to always keep you connected.
This includes:
Wireless charging
Apple CarPlay® and Android Auto™
MyNISSAN app

Easily allows you to access your vehicle from anywhere.
You also have the choice of an 8 or 9-inch touchscreen, and the largest head-up display available in its class. Lastly, we can't forget the 12-inch customizable gauge cluster on the dashboard where you can find maps, menus, and your favourite music.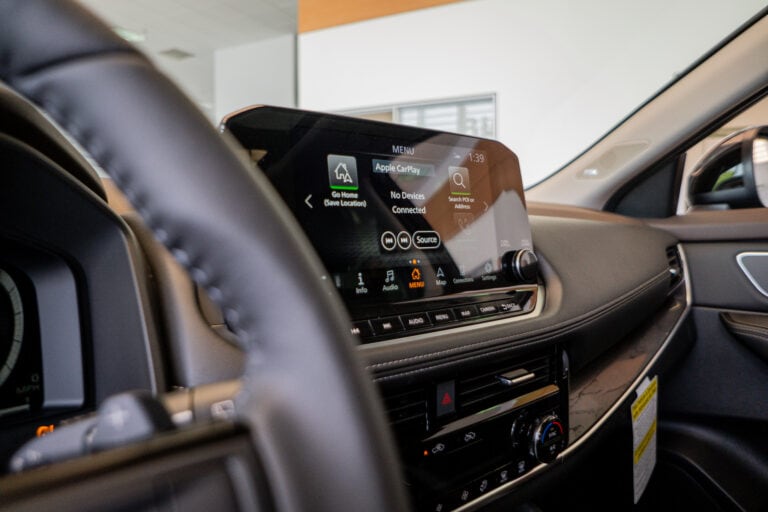 Safety: Less Stress, More Driving
The new Nissan Rogue is ahead of the game in safety. One standout safety feature is ProPILOT Assist™ with Navi-Link which allows the Rogue to anticipate road conditions with 3D high-definition highway mapping.
ProPILOT Assist™ also features Navi-Link technology which automatically adjusts your speed according to speed limit signs, smoothly navigates off-ramps, and expertly maintains lane position, even during stop-and-go traffic.
Other top safety features include:
Emergency Braking
Blindspot warning
High beam assist
Collision warning
Traffic sign recognition
Performance: Power and Fuel Efficiency
The 2023 Nissan Rogue is nothing short of powerful with its 1.5L VC-Turbo ® engine, 201 horsepower, 225 lb-ft of torque, and state-of-the-art Xtronic CVT transmission. Known for its fantastic fuel efficiency, you can enjoy 8.4L/100km fuel economy in the city and 6.7L/km on the highway.
Depending on your driving style and environment, the Rogue also offers 5 different drive modes to meet your needs: sport mode, off-road mode, snow mode, auto mode, and eco mode.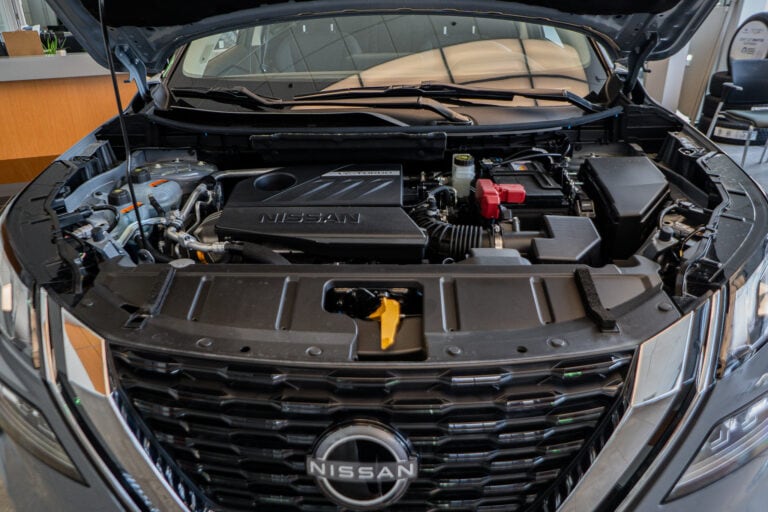 Interested in the functional and fuel efficient 2023 Nissan Rogue? You can learn more at Nissan Canada.
Browse our diverse selection of SUVs here!