Since the beginning, MINI has created cars that deliver a maximum experience with a minimal foot print. The very first MINI was built in 1959, it was fuel efficient and fun to drive, quickly making it the urban car of choice. Today, this same principle is being applied to MINI's electric line up. With battery powered driving technology delivering even more energy to the MINI driving experience, the all-electric MINI Cooper SE 3 door is designed to electrify every drive and every day. With zero emissions, MINI is leading the charge towards a brighter, more sustainable future.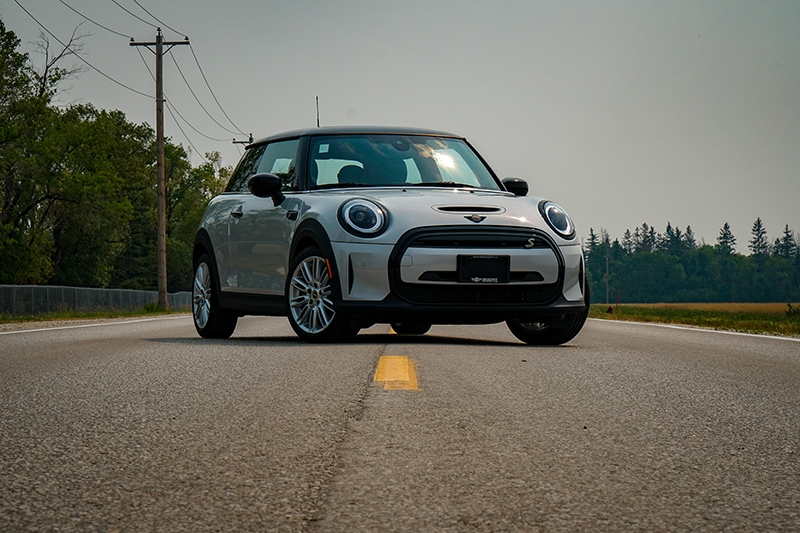 The first all-electric MINI ushers in an exciting new era for the iconic urban car. Picture MINI at its most evolved – fusing trademark design and handling with instantaneous acceleration, emission free mobility and a driving experience that is more electrifying than ever. Discover the all-electric MINI for yourself and charge headfirst into a more sustainable future.
Iconic Styling meets Electric Capabilities
While the MINI Cooper SE 3 door retains its distinct and iconic aesthetic, added accents in "Energetic Yellow" and unique badging give it a style that is all its own. The front grill is closed to optimize aerodynamics and new alloy wheel designs add a futuristic look and feel. The charging port is found behind the same fuel door as its gas powered counterpart.
The Cooper SE 3 door features a brand-new digital instrument cluster positioned behind the steering wheel – and in your direct line of sight – that provides important information in a sleek and modern display. The 5.5" screen displays info like speed, driving modes, charge level, range and more. It is perfectly complemented by the standard 6.5" touchscreen in the centre instrument display. On this screen, you can access ConnectedDrive services, on-board Navigation, and Advanced real Time Traffic info, as well as Remote Services that allow you to control your MINI from your smartphone.
Prepare for the Perfect Commute
The MINI Cooper SE 3 door allows you to "Pre-Condition" your car while plugged in overnight. Daily commute stars at 7am? Program your MINI to turn on the Heat or Air Conditioning an hour before to use the power from the outlet rather than your battery. This allows you to always make sure your MINI is ready to drive and always make sure you have the full range of your battery. You can even program your MINI to start charging overnight when "time of use" electricity rates are lowest!
Enhanced Stability, Enhanced Fun
Make no mistake, the MINI Cooper SE 3 door boasts the same corner-carving capabilities that have been turning drivers onto the MINI brand for years. But because the Hight Voltage Lithium-Ion battery is positioned along the length of the vehicle floor, it has a centre of gravity that is even lower than a traditional MINI. This means enhanced stability, and enhanced fun around every turn.
Thanks to an all-electric motor, the MINI Cooper SE 3 door delivers instant torque, almost as if you are flipping on a light switch. With capabilities of reaching 60 km/h in a whopping 3.9 seconds, you'll have no problem leading the charge when the light turns green.
Electric power comes easier than you thought. The MINI Cooper SE 3 door comes equipped with a Level 1 charging cable for simple home charging in a standard 110v outlet. An available Level 2 charging cable can be used in a  240v outlet for 6 times faster charging 0-100% in 4 hours). When you are on the go, you can use the MINI's navigation system to find DC Fast Chargers for a 0-80% charge in just 35 minutes!
Efficiency is the name of the game with the MINI Cooper SE 3 door. The moment you take your foot off the accelerator (which you won't want to do often), you will feel the car decelerating. The Cooper SE 3 door gathers energy while the car is decelerating to charge the Hight Voltage Lithium-Ion Battery – so you can recharge while you drive! The regeneration function can be set to two different levels so you can choose how much you want to decelerate and how much you want to charge.
The MINI Cooper SE 3 door is as fun to drive as it is economical and environmentally friendly. Click the link below to view our full inventory and to book your test drive today.
Click the link below to visit MINI Canada's website and learn even more about this incredible vehicle.