Kia's newest reveal for 2024, the EV9, has charged into the spotlight as the pioneering electric SUV that can seat three rows – a revolutionary addition to the mainstream auto industry.
The new EV can be seen as the electric counterpart to the Telluride, not only in its size but also its purpose. Kia is undoubtedly hoping that this new electric vehicle will follow in the footsteps of its gas-powered sibling and become a runaway hit.
Kia's design team, under the leadership of Karim Habib, has coined the term "refined boxiness" to describe the exterior of the EV9, which features a blend of sharp angles and soft curves. The SUV's bold stance is accentuated by its towering shoulders and low beltline, which ensure excellent visibility.
In a nod to future Kia's, the EV9 sports vertical head and taillights, and comes with a choice of 21-, 20-, or 19-inch wheels, each with sharp-edged inserts available in both square and triangular shapes.
Kia went above and beyond to ensure that the EV9's interior feels even more spacious than its already generous dimensions. To achieve this, the design team decided against a dash that extends into the doors, as it can make occupants feel boxed in. Even the front seat headrests were carefully selected, with a mesh design that allows rear passengers to see beyond them, promoting an open atmosphere.
The dashboard itself is sleek and minimal, featuring two 12.3-inch screens—one for the gauge cluster and the other for infotainment—separated by a dedicated HVAC display. Physical buttons and knobs are few and far between, with touch-sensitive controls on the dash allowing for easy menu navigation.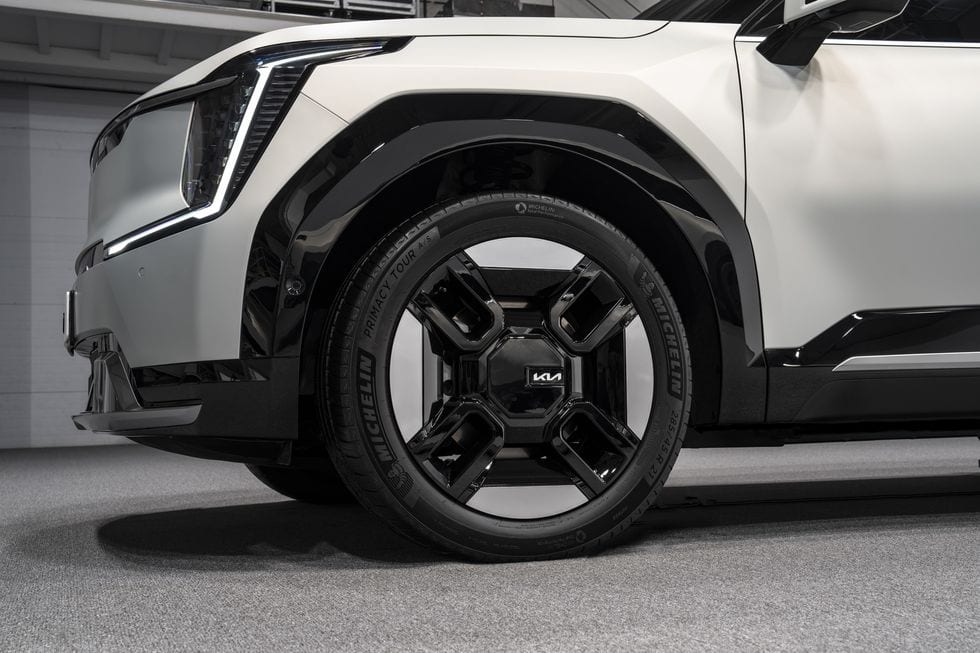 While Kia has remained tight-lipped about the EV9's powertrain, battery capacity, range, and size, it still closely mirrors the dimensions of the EV9 concept. Based on a recent survey conducted by Kia, it's anticipated that the EV9 will be available with a single rear motor or one at each axle for all-wheel drive and boast a drive-range of 480 kilometers – a figure that aligns with the readout on the early prototype which displayed 91% battery life and a remaining range of 271 miles. Additionally, the concept promises even faster charging times than the already-swift EV6.
With the official unveiling of the EV9 slated for late March, many of these lingering questions will be answered, and Kia has confirmed that the vehicle will be available for purchase by late 2023 or early 2024.