Unleash the Power of the Z
After years in hiatus the Nissan Z is back in action. The all-new 2023 Nissan Z has been remodelled to feature a bit of the old and a bit of the new. The Z draws familiar design features and legendary performance from past models but gives us a glimpse into the future with its updated interior and technology.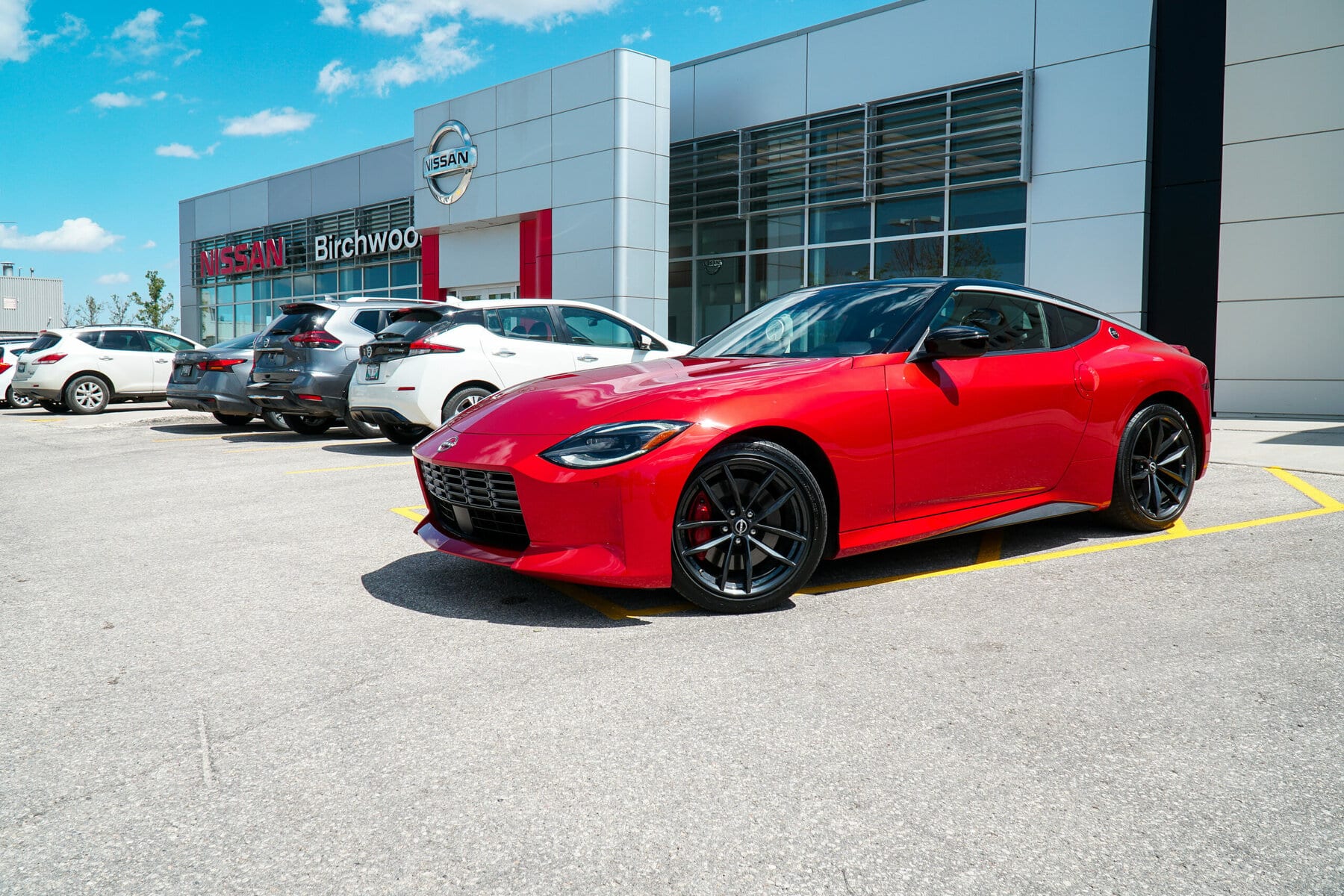 The 2023 Z's exterior has stuck to its roots. It's serving up classic sports car proportions with a long hood and short rear deck, yet it combines iconic Z styling elements. This makes it unquestionably identified as a Nissan Z.
Two-tone exterior

This creates an aggressive look while accentuating the "Katana Blade" shape that arches from the A-pillar back across the roofline.

Iconic Headlights

This Z has carefully sculpted curved LED bulbs that have original Z components— yet look completely modern.

Iconic Taillights

This simple and clean taillight was inspired by the 1990 300ZX, but features a double-layered 3D design to keep up with the modern look that the rest of the 2023 Z delivers.
The 2023 Z's interior holds you firmly in your place through every curve, making sure you are always in your element. This classic design doesn't let you forget what a true sports car can and should look like inside.
Driver-Oriented Cockpit

The Z remains in a driver-focused environment with its round triple gauges in the centre display.

Performance Seats

These leather-appointed, synthetic suede seats have deep, body-hugging cut-outs that allow the driver easier movement when pedaling, shifting, and steering.

GT-R-inspired steering wheel

This GT-R R32-inspired steering wheel has a leather-wrapped rim, thicker than the current GT-R to match the modern look of the rest of the vehicle.

Race-car driver-designed gauges

This mode is one of three selectable modes displayed on the digital dashboard giving you a true race experience!

Triple-pod cluster

This triple-pod cluster gives you key information at a glance, including turbo boost, turbine speed, and voltage.
The 2023 Z keeps you connected with technology that's minimal but performs just as well as the car itself. By combining nostalgic simplicity with modern technology, the Z allows you to get a true sports car experience while connecting to your digital life quickly and effortlessly.
Available eight-inch touchscreen display.
Apple CarPlay™ & Android Auto™.
Available NissanConnect.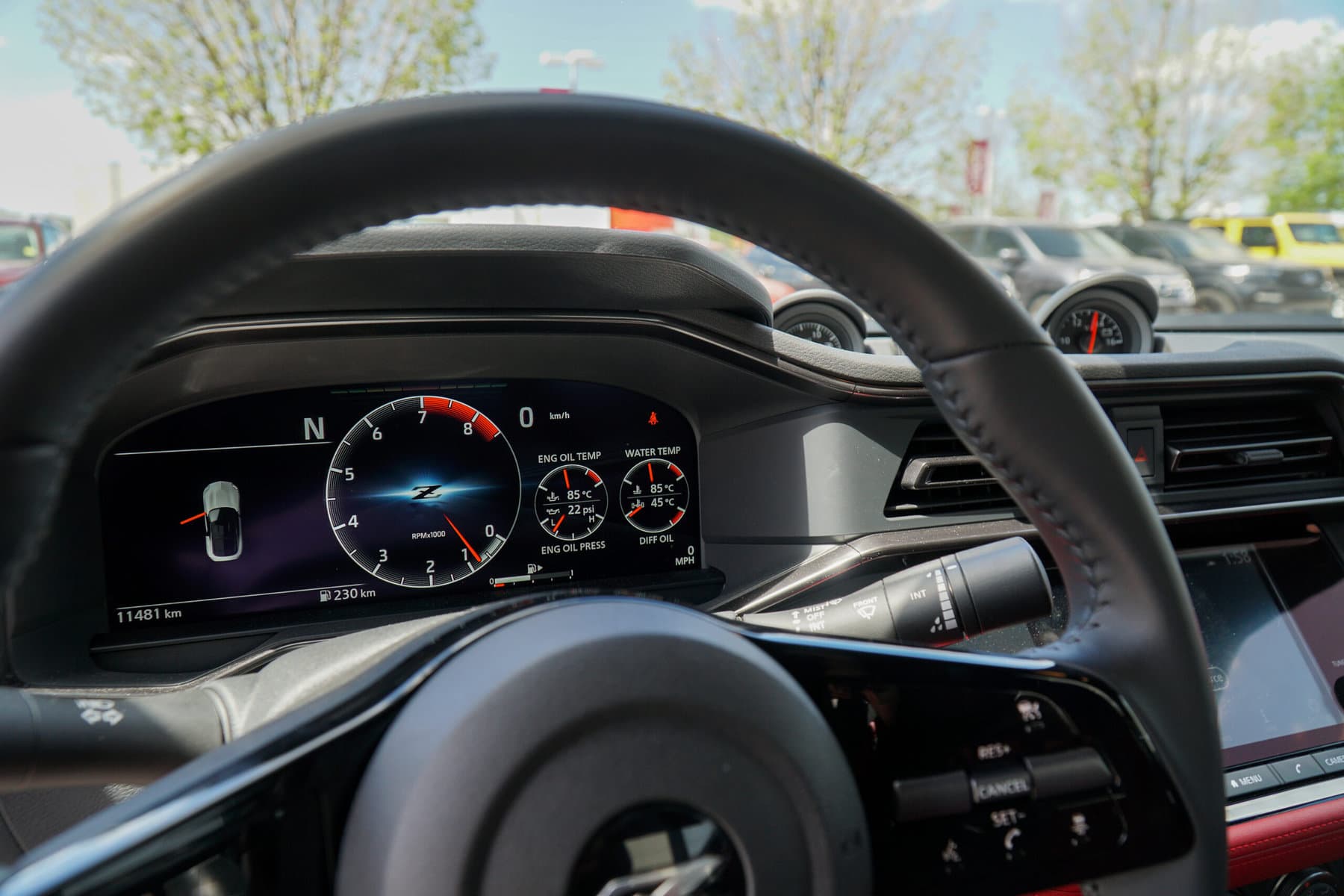 The advanced safety of the 2023 Z allows you to focus on what matters most, the pure enjoyment of the vehicle!
Emergency Braking with Pedestrian Detection

This monitors your speed and distance from the car ahead, alerting you if you need to slow down.
If it detects a pedestrian at a crosswalk, it can stop the vehicle as it's driving.

Forward Collision Warning

This feature keeps an eye on the two cars in front of you and can detect if one was to suddenly decelerate or slow down, warning you to do the same.

Blind Spot Warning

This feature warns you when it detects a vehicle hiding in your blind spot!

Rear Cross-Traffic Alert

This feature watches around the rear of the vehicle to detect any car that might sneak up from either side.

High Beam Assist

This feature detects oncoming vehicles and will deactivate your highbeams. Then, it will reactivate them when the car has passed—letting you simply focus on the pleasure of driving.

Lane Departure Warning

This feature makes sure you only change lanes when you mean to! If you drift over without signaling, a gentle buzz on the steering wheel will warn you to return to your lane.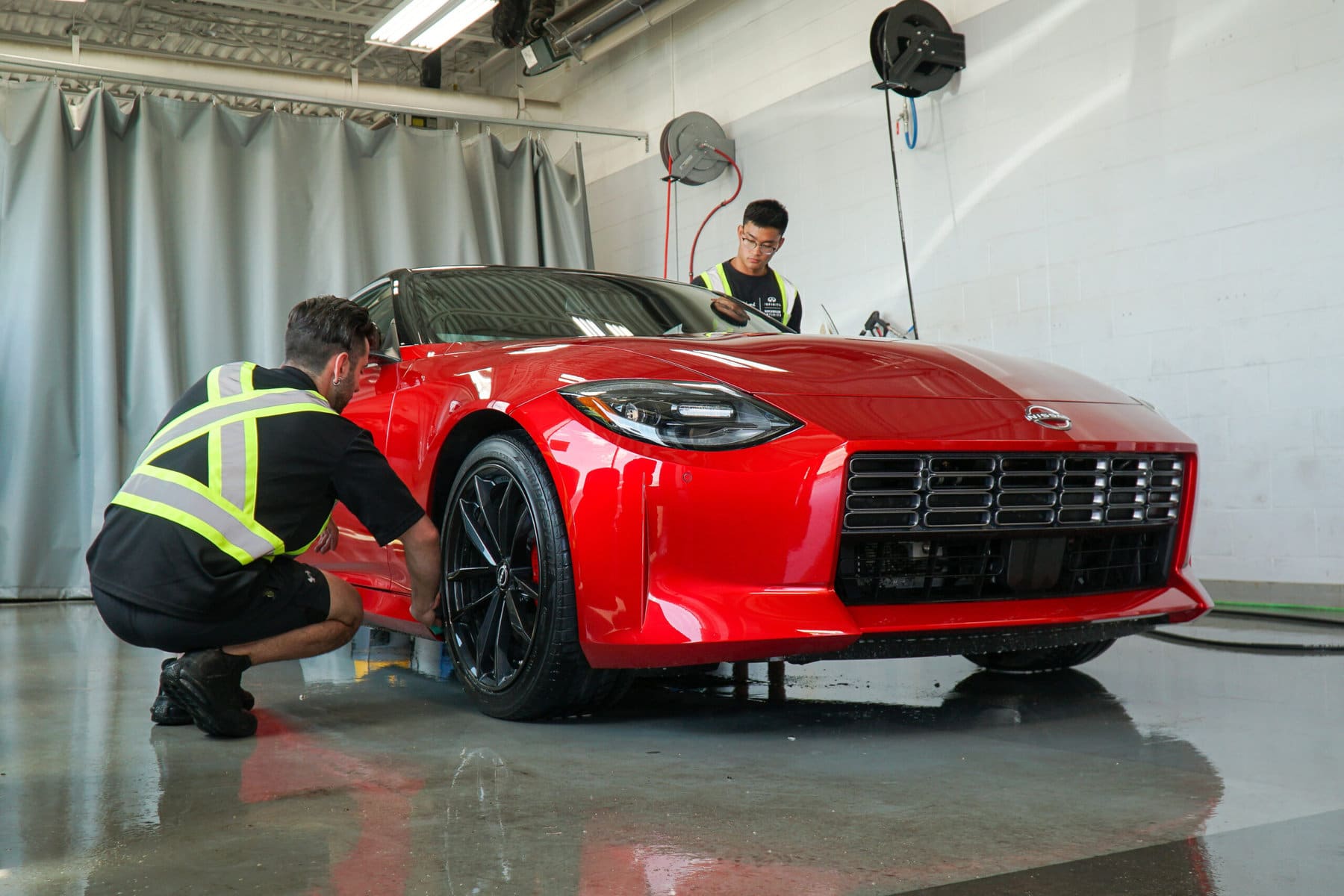 With all the 2023 Z's new elements, it made sure to stick to its performance roots with a powerful 6-cylinder twin turbo-charged engine under the hood. A front midship, rear-wheel-drive design places the engine farther back in the chassis for enhanced balance, while the new suspension system makes you feel hard-wired to the road. All of this leaves the Z feeling like an authentic sports car in the purest form.
 400 horsepower at 6,400 rpm

This sports car has a 3.0-litre V6 twin-turbocharged 24-valve engine. Thanks to the aluminum-alloy block and heads, it's nice and light. Plus, with a water-cooled intercooler, it stays at the right temperature.
Mechanical limited-slip differential

A newly available mechanical limited-slip differential helps distribute power to the driven wheel with the best grip, helping you power out of corners.

Launch control

This feature helps eliminate wheel spin and hop! It holds the engine at a pre-set rpm and modulates the power as you pull away to deliver the fastest, most consistent acceleration every time.

6-speed manual transmission

The new first-and second gear synchros are designed to help handle the Z's powerful twin-turbo engine. The shift mechanism has been redesigned to create a more direct response you can really feel.



9-speed automatic transmission

Meet the one automatic transmission that can temp manual drivers. This 9-speed automatic transmission features shift-by-wire technology which is activated by a unique palm-shaped controller. The 2023 Z also borrowed Nissan GT-R's steering wheel paddle shifters to add additional thrills!

Suspension

The 2023 Z features new mono tube shocks, enhanced front geometry, and rear suspension tuning.

Steering

Electric steering makes an appearance for the first time ever on the 2023 Z! This means near-infinite tuning for inspired control and precision.

Body rigidity

To help maximize the Z's suspension, torsional rigidity has increased by 10%.

Sport brakes

Tuned to give braking with excellent feel and stopping power, available sport brakes feature 14-inch front rotors with 4-piston calipers.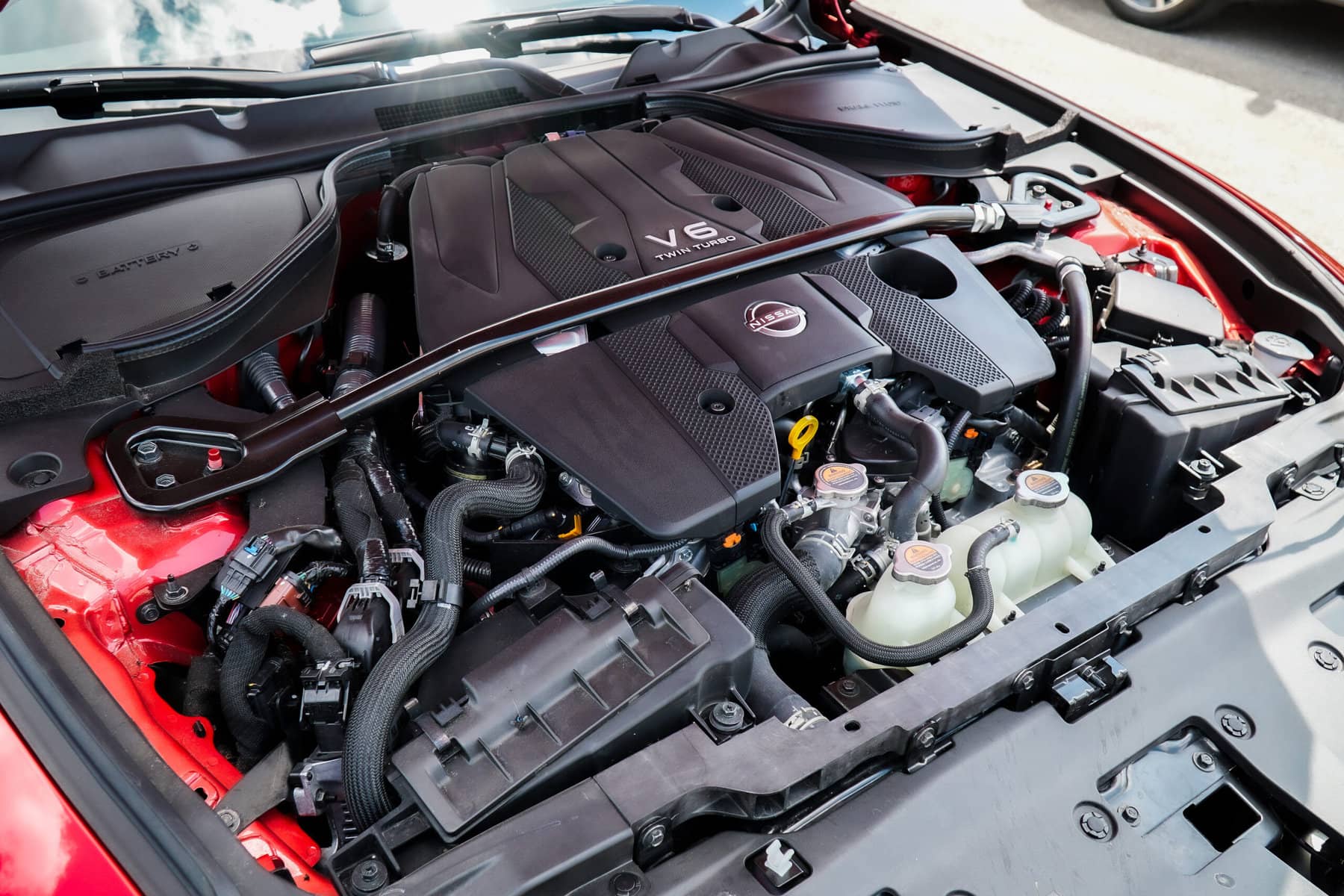 Call Dibs on the 2023 Nissan Z!
Experience Birchwood today! Visit our website to view current inventory, book a test drive, or pre-order! Want to learn more about the 2023 Nissan Z? Visit Nissan.ca to explore the power of the Z today.