Volkswagen's shows a return to company roots with their latest concept, the ID.2all. The pint-sized electric hatchback is a harbinger of the upcoming ID.2, which will undoubtedly embody the same spirit.
Set to hit European markets in 2025, the ID.2all is expected to cost less than €25,000 (approximately $37,045). While the absence of the ID.3 in North America raises doubts about the ID.2all's availability in Canada, fingers crossed Volkswagen will find a way to bring a similar vehicle to our shores.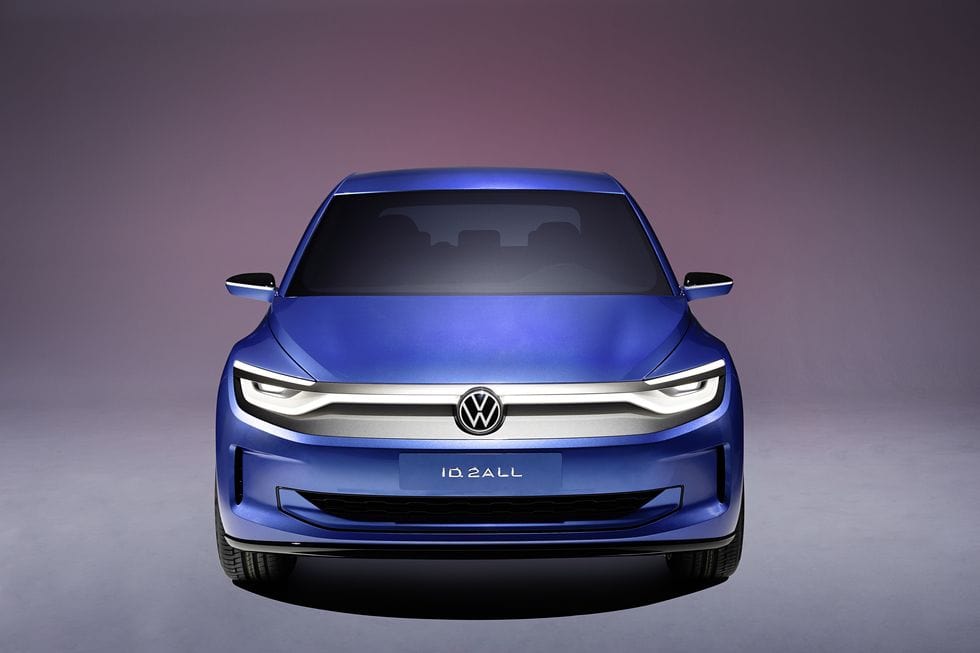 Powered by an enhanced iteration of the MEB platform, which forms the foundation of all current ID models, the ID.2all will feature front-wheel drive, a departure from the rear-wheel drive configurations of the ID.3 and ID.4. The concept model also features a front-mounted electric motor that delivers an impressive 223 horsepower, surpassing the 201 hp output of the base RWD ID.4.
While Volkswagen has not disclosed the battery capacity, the company predicts a range of 450 kilometers on the optimistic WLTP cycle. However, it is reasonable to expect that the base model, priced at €25,000, will have less range and power, with Volkswagen likely to offer a range of battery sizes and output configurations.
Wheelbase is just over 1 inch shorter than the Golf's.
GTI-style wheels are pushed out to the corners for a sporty stance.
Short overhangs create a sleek and athletic look.
Electric platform allows for space-efficient packaging.
2all is nearly as spacious inside as the Golf despite having a smaller footprint.
Sporty steering wheel shape.
Prominent center console.
Dual screens serve as digital gauge cluster and large central screen.
While the ID.2all may not make its way to the North America, its great design and affordability are certainly appealing to many Canadian car buyers. We can only hope that VW's future electric vehicles will incorporate similar design elements and features that make the ID.2all so appealing. As the world moves towards a greener future, it's encouraging to see automakers like Volkswagen creating practical and stylish electric vehicles that appeal to consumers all over the world.
Click here to view electric Volkswagen options currently available at Birchwood!